Captain America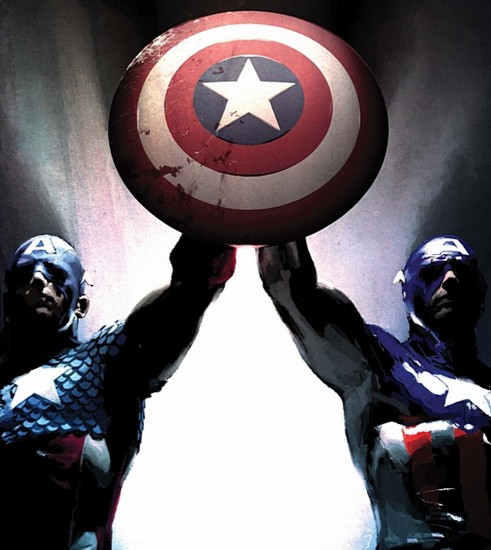 Born during the Great Depression, Steve Rogers grew up a frail youth in a poor family. Horrified by the newsreel footage of the Nazis in Europe, Rogers was inspired to enlist in the army, however because of his frailty and sickness he was rejected. Overhearing the boy's earnest plea, General Chester Phillips offered Rogers the opportunity to take part in a special experiment - Operation: Rebirth. After weeks of tests, Rogers was at last administered the Super-Solider Serum and bombarded by "vita-rays." Emerging from the treatment with a body as perfect as a body can be and still be human, Rogers was then put through an intensive physical and tactical training program. Months later, he was given his first battle assignment.
His contributions to the allied efforts were legendary in their own time. In the end he would fall at the hands of the enemy only to be discovered in suspended animation a generation later. Revived and armed with his indestructible shield and battle savvy, Rogers continued his war against evil both as a sentinel of liberty and the leader of the Avengers, Captain America.
Hero:
Captain America (Steve Rogers)
Commander Steve Rogers
Captain America (Bucky Barnes)
Supporting Cast:
Nick Fury
Sharon Carter
Bernie Rosenthal
Peggy Carter
Zachary Moonhunter
Timothy "Dum Dum" Dugan
S.H.I.E.L.D.
Guest Stars:
The Falcon and Redwing
USAgent
Union Jack
Diamondback
Free Spirit
Jack Flag
D-Man
The Sub-Mariner
Nomad
Black Widow
The Avengers
Villains:
The Red Skull
Baron Zemo I
Baron Zemo II
Crossbones
Sin
Hate-Monger
Baron Von Strucker
Batroc the Leaper
Flag-Smasher
Baron Blood
Arnim Zola
Viper
Dr. Faustus
Grand Director
Protocide
The Taskmaster
Yellow Claw
Anti-Cap
Aleksander Lukin
The Machinesmith
Master Man
Warrior Woman
U-Man
Nuke
Cutthroat
Slug
Vermin
Tattermalion
Scarecrow
Primus
Mad Dog
The Man with No Face
The Beetle
Villainous Groups:
Hydra
AIM
R.A.I.D.
The Serpent Society
ULTIMATUM
Batroc's Brigade
Sons of the Serpent
Femizons
page revision: 10, last edited: 04 Aug 2012 08:44