Daredevil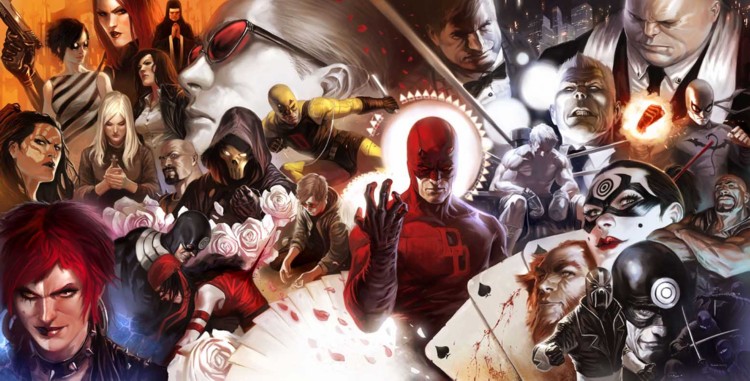 Young Matt Murdock hurled himself into the path of an oncoming truck to rescue an elderly blind man about to be run down. Ironically Murdock was himself blinded when a barrel of radioactive waste fell from the truck splashing into his eyes. As a side effect, the radiation mutagenically heightened his remaining senses and activated a strange radar sense.
After his blinding, Matt was mentored by a mysterious blind man known only as 'Stick', who taught him to use his newly augmented senses and trained him in the fighting arts of Ninjitsu and Judo.
Pressed by his father, a Hells Kitchen boxer named "Battling" Jack Murdock, Matt went on to college and then law school. When Jack was killed by mobsters after refusing to throw a fight against a much younger boxer, Matt sought justice in vain. Disillusioned by the legal system, he assumed the guise of the man without fear, Daredevil.
Hero:
Daredevil (Matt Murdock)
Supporting Cast:
Foggy Nelson
Karen Page Deseased
Ben Urich
Rosalind Sharpe
Sister Maggie
Turk Barrett
Stick
Milla Donovan
Jessica Jones
Dakota North
Guest Stars:
Elektra
Black Widow
The Punisher
Luke Cage
Iron Fist
Spider-Man
Villains:
The Kingpin of Crime
Bullseye
Mysterio I
Echo
The Owl
Copperhead
Stilt-Man
The Gladiator
Typhoid Mary
Mister Hyde
Purple Man
Mister Fear
Nitro the Exploding Man
Shotgun
Boomerang
Bushwhacker
The Jester
Nuke
The Beetle I
Blackheart
Ammo
Bullet
Sammy Silke
Mysterio II
Black Tarantula
Hammerhead
Tombstone
Vanessa Fisk
Lady Bullseye
Bengal
Blackout II
Damon Dran
Deathwatch
The Matador
Razorfist
The Hood
Tatterdemalion
Slug
Villainous Teams:
The Hand
The Enforcers
Hydra
The Circus of Crime
The Ani-Men
page revision: 2, last edited: 28 Jul 2011 09:39