Iron Man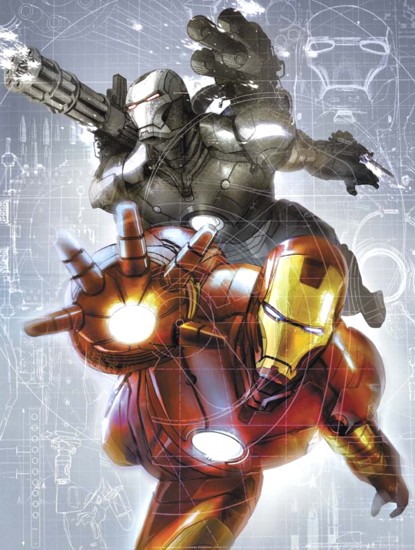 While traveling in the field to service his newly invented battle armor, billionaire genius Tony Stark was gravely injured by shrapnel from a claymore mine. Captured by the warlord Wong-Chu, Stark was pressed into service to create a new advanced armor based upon his battle armor, in exchange for a crucial chest operation to save his life when the work was complete. Provided with a laboratory and equipment he was teamed with fellow prisoner-of-war Dr. Ho Yinsen, one of the worlds leading physicist. They created an armor that would not only allow Stark to escape, but save his life by keeping his injured heart beating, despite the shrapnel injury.
The world was led to believe Iron Man was Stark's personal bodyguard. In his dual role, Stark faces corporate intrigue and super-powered menaces. A modern day knight fighting injustice wherever it rears its head as the Invincible Iron Man.
Hero:
Iron Man (Tony Stark)
Supporting Cast:
Virginia "Pepper" Potts
Harold "Happy" Hogan
Morgan Stark
Bambi Arborgast
Eddie March
Michael O'Brien
Abe Zimmer
Rumiko Fujikawa
Maya Hansen
Sal Kenndey
Marianne Rodgers
HOMER
PLATO
Friday
S.H.I.E.L.D.
Allies:
War Machine I
Black Widow
Force
Sunturion
The Avengers
Villains:
Mandarin
Crimson Dynamo
Titanium Man
Ultimo
Fin Fang Foom
Justin Hammer
Sunset Bain
Iron Monger
Blacklash
The Living Laser
Firebrand I
Firebrand III
Madame Masque
Spymaster
The Controller
Blizzard
Radioactive Man
M.O.D.O.K.
The Ghost
Firepower
Mauler
Wong-Chu
Mordecai Midas
Ultron
Temugin
Ezekiel Stane
Whiplash III
Unicorn
Shockwave
Vibro
Machinesmith
Arsenal
Dreadknight
Chemistro
Melter
Nitro the Exploding Man
Justine Hammer
Sasha Hammer
Detroit Steel
Villainous Teams:
Maggia
Hydra
A.I.M.
The Raiders
The Seekers
A.G.M.
page revision: 3, last edited: 28 Jul 2011 09:38