Mighty Avengers (Post Secret Invasion)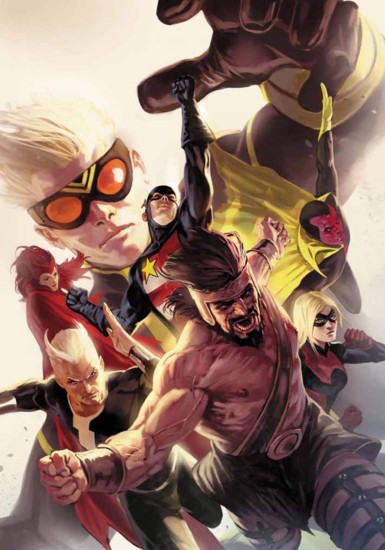 Vision and Stature are on the ruins of the Avengers statue memory lane. There a new statue appeared showing the death of Wasp. Surprisingly, they see statues of the Young Avengers there too they notice that they have been cover in some kind of goo making super heroes into statues. They flee from this and see the unexpected, the woman who Vision loves and who killed Cassie Lang's father, the Scarlet Witch, but before any of the three can say anything, Wanda teleports them out of trouble.
She then scours the globe and recollects U.S. Agent out of battle, and Hulk out of being frozen. Iron Man had some trouble at Stark Enterprises and Jarvis and Hercules met up surprised that a whole state was gone. They went to Hank Pym for help to lead the new team of Avengers, but he denied because he was afraid to lead the team. Scarlet Witch went to him and told him that he was needed for the team to be complete and that all he had to do was summon his team that she had arranged for him.
Later by the words AVENGERS ASSEMBLE spoken by Hank Pym, now Wasp, and the help of the Scarlet Witch's powers the new Mighty Avengers are summoned. The Scarlet Witch gathered these heroes to fight the threat of the reborn Chthon entity, whom has possessed Quicksilver. The Scarlet Witch is able to release Quicksilver from Chthon's control, but not before revealing that the Scarlet Witch is really Loki in disguise.
Members:
The Wasp II
USAgent
Quicksilver
Hercules
Stature
The Vision
Supporting Cast:
Edwin Jarvis
Jocasta
Mastermind Excello
Bova
Equipment:
Infinite Avengers Mansion
Former Members:
Iron Man
The Hulk
Allies:
The New Avengers
The Young Avengers
G.R.A.M.P.A.
Villains:
Loki
Chthon
Modred the Mystic
Swarm
Unspoken
Zzzax
Dancen Macabre
Terminus
Absorbing Man
Ultron
Villainous Groups:
The Dark Avengers
The Thunderbolts
page revision: 1, last edited: 29 Jul 2011 10:36