Thor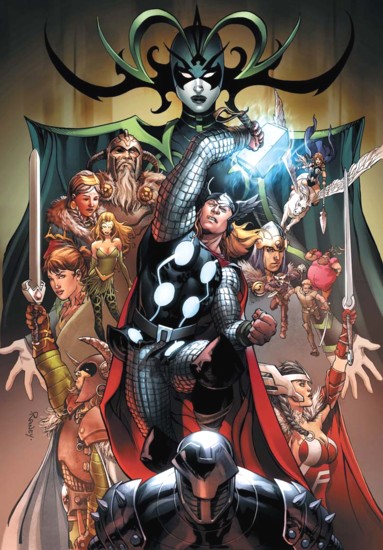 A Norse god, the young and impetuous Thor nearly started a war by violating a truce with his race's ancient enemies - the Frost Giants. Odin, his father and king of the Norse gods, banished the young prince to Earth without his memory, in order to teach him humility as a mere mortal.
After a decade as the earthly doctor Donald Blake, the ancient god was compelled to visit Norway where he encountering a race of warmongering stone-like aliens known as Kronan.
Unaware of his true nature Dr. Blake hid in a cave where he found a mysterious wooden cane. The cane was actually the enchanted war-hammer Mjolnir, which when struck on the ground shed its mystical disguise and transformed Blake into the godly form of the mighty Thor.
Hero:
Supporting Cast:
The Asgardians
Dr. Donald Blake
Dr. Jane Foster
Allies:
Beta-Ray Bill
Thor Girl
Red Norvell
Thunderstrike
Dargo Ktor
Hercules
The Avengers
Villains:
Loki
Loki
The Enchantress
Skurge the Executioner
Karnilla
Surtur
Ymir
Hela
Jormungand the Midgard Serpent
The Destroyer
Malekith the Dark Elf
Kurse
Volla
Ulik the Rock Troll
Mephisto
Pluto
Ares
Seth
Mangog
Thanos the Mad Titan
The Absorbing Man
Titania
Zarrko the Tomorrow Man
Fenris
Desak the Destroyer of Gods
Mongoose
Grey Gargoyle
Crusader
Quicksand
Mongoose
Radioactive Man
Ego the Living Planet
Ragnarok
Bi-Beast
Growing Man
Villainous Teams:
The Dark Gods
The Wrecking Crew
The Lava Men
The Exemplars
Races of Asgard:
Asgardian Trolls
Frost Giants
Rock Giants
Dark Elves
Light Elves
page revision: 3, last edited: 28 Jul 2011 09:41