Wolverine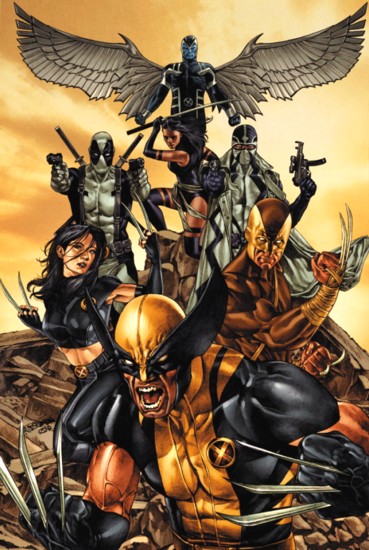 Logan is a man of unknown age that has a long, checkered, and mostly forgotten past. His confusion is compounded by the discovery that many of his memories may be artificial implants or the result of his healing powers attempt to stabilize his mental state after personally traumatic experiences.
Supposedly against his will, he was subjected to a series of procedures bonding the unbreakable alloy, known as Adamantium to his skeleton. Working for the Canadian government, he made his first public appearance to end an altercation between the Gamma irradiated monster known as the Hulk and the cursed cannibal known as Wendigo.
He later resurfaced as a member of the super-powered mutant team known as the X-Men. Initially a loose cannon, Logan learned under the tutelage of Professor Xavier to control his animalistic tempter to become one of his star pupils. Although he has learned self control he remains one of the most dangerous men in the world, known mostly to allies and enemies alike as Wolverine.
Hero:
Wolverine (Logan / James Howlett)
Supporting Cast:
X-23
Yukio
Amika
Maverick
Cable
Jubilee
Shadowcat
Albert and Elsie-Dee
Agent Zero
Kane
Fantomex
Group Affiliations:
The X-Men
The Avengers
Alpha Flight
X-Force
Villains:
Sabretooth
The Hulk
Lady Deathstrike
Cyber
Mister X
Wendigo
Omega Red
Viper
Daken
Deadpool
Bloodscream
Roughouse
Ogun
The Gorgon
Geist
Wild Child
Magneto
Romulus
Villainous Teams:
Hydra
The Hand
The Reavers
The Savage Land Mutates
page revision: 4, last edited: 28 Jul 2011 10:45